PLEASE SEE BELOW LINK TO BE CONNECTED TO MAIN PAGE: http://socaldentalcpa.com/services/
TAX, ACCOUNTING AND CONSULTING
Our Daily insights as a Dental CPA  allows us to effectively communicate business concepts to dental professionals and practices while strategically addressing tax, investment, and retirement planning needs. As a dental advisor, we adept at collaborating with dental practices and incorporating our expertise to help dentists grow their practices and increase their profitability.
By providing outstanding accounting, consulting, tax, retirement , and estate planning services, we are committed to being California's premier Dental CPA firm specializing in all areas and stages of dental industry and dental professionals.
A Focus on Dentistry
Focusing on the dental industry allows us to offer services that are specific to your organizational needs. Rising insurance costs, rapid technology advancements, and numerous regulatory issues place enormous pressure on dental care providers. We understand the financial and managerial impact these issues have on your practice.
With our in-depth understanding of the unique reporting and tax obligations of the dental and medical industries, we can help you develop successful business strategies, minimize taxes, and give you the tools you need to run a successful and sustainable practice.
Dentistry is our firm's specialty, and we pay special attention to the operating efficiencies that affect your bottom line. We are uniquely qualified to bring your dental practice a level of expertise that you won't get with other accounting firms. We'll help you manage your cash flow and reduce income taxes through our pro-active approach to tax and financial planning that help you keep more of your hard-earned practice dollars.
In addition to traditional tax and accounting services, we understand and are able to specifically help our Dental clients in the following areas:
Management Services
Analyze 3rd party Contracts & Negotiations
Quarterly Reviews of Management & Business Issues
Review & Maintain Corporate Documents, including Buy/Sell Agreements and Employment Agreements
Calculate Buy-in/Buy-outs
Assist in Recruitment
Facilitate Long-range Business Planning
New Business Formation/Entity Selection
Internal Controls
Fee Structuring
Financial Management Services
Quarterly Analysis of Financial Statements
Budget & Cash Flow Projections
Bookkeeping for Dental Practices.
Competitively Priced, Fixed-Fee Service Plans.
We work with everyone from general dentists and independent dental contractors to orthodontists, oral surgeons and all kinds of dental professionals. Our goal is to effectively manage your finances so you can focus on caring for patients. Call us today at (818) 884-2549 to schedule a free initial consultation with Southern California Dental CPA so we can learn more about the accounting and tax needs of your practice.
DENTAL CPA SERVICES :
                MONTHLY BASIS:
Reconcile your bank account, credit accounts and loans;
Monthly accounting services
Generate an income statement (P&L);
Generate a balance sheet; and
Clean up your general ledger.
ANNUAL BASIS
Prepare your personal income tax return.
Prepare your business income tax return.
Prepare any required sales & use tax returns.
Prepare your Worker's Compensation audit reports.
Prepare your Form 571-L Business Property Tax returns.
Prepare Forms 1099 for any vendors or independent contractors.
Dental Practice Valuations & Due Diligence and Consulting
We provide assistance throughout the entire process; from goal-setting and building key value drivers to negotiating deal terms. Our team of DentalCPAs can also help with a range of situations, such as Practice sales, acquisitions, and mergers, formation, and dissolution of partnerships, associate buy-in's, and litigation support. Allow our Dental CPAs to lead you through a successful transition with: Exit planning, gifting, and estate tax issues, transaction advisory, negotiation assistance.
DentalCPAs are here to answer all your start-up questions and assist you throughout the entire process. We offer an extensive list of the necessary resources to build your practice's foundation for future success. Our Dental CPA start-up services include the following: Business modeling, feasibility study, demographic analysis, long-term strategy, tax planning, office accounting set-up, tracking and monitoring productivity.
Buying or selling a dental practice might be the single biggest decision of your professional career. This task requires a mix of financial and non-financial information such as local customs.
Next Steps…We offer a FREE initial consultation for dental Professionals. Call 1 (818) 884-2549 today for a free, confidential consultation and ask for Fazel Mostashari.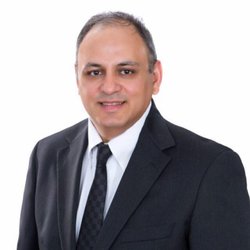 Tax services for dental practices:
Tax preparation for dental practices
Tax returns for dentists
Estimated taxes
Tax planning strategies
Assistance with IRS tax problems
Succession and retirement planning
Dental Practice Management Consulting
The day-to-day challenges of managing a dental practice can sometimes feel overwhelming for busy small business owners. Making sure your practice is in compliance with government regulations while trying to manage cash flow and accounting tasks can consume the energy you'd rather direct towards patient care. We can help. We offer healthcare consulting and practice management for dentists in California.
We begin by conducting a comprehensive review of your practice to identify where operational improvements can be made. Then we show you how to implement changes that will simplify accounting procedures. We carefully organize your record-keeping system, improve internal controls and eliminate unnecessary expenses. The result is that your operations will become more efficient, paving the way for new business growth. We are also equipped to- assist you with practice transition services such as mergers, acquisitions and succession planning.
Call us at 818-884-2549 today to discuss the specific needs and concerns of your practice with a trusted and experienced dental CPA firm. We offer a free initial consultation.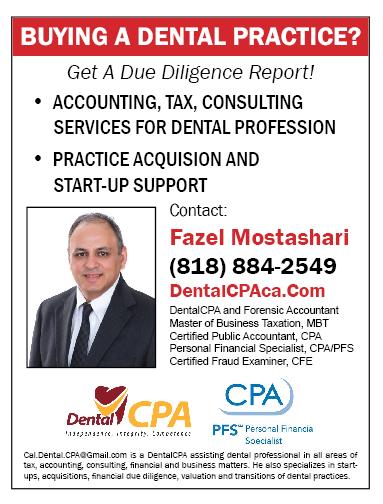 Practice consulting services for dentists:
Practice start-up consultation
Choosing the right type of entity for your practice
Strategic growth planning
Overhead analysis
Capital acquisitions
Tax planning strategies
Lease vs. buy analysis
Business continuation planning
Operational review and implementing improvements
Financing assistance
Business plans
Equipment acquisition planning
Dental Practice Benchmarking
bench marking for dentists
Do you know how financially strong your dental practice really is? Make sure your practice is healthy and on track to meet financial targets with dental practice benchmarking our Dental CPA Firm We use benchmarks to compare your practice with others and highlight areas where adjustments can be made to improve business performance.
Dental practice bench marking offers a number of benefits. Benchmarking data helps analyze overhead to see if expenses should be reduced and examines personnel costs to figure out if you need to hire additional staff. For practices with multiple dentists, this data can be used to evaluate your compensation structure and discern if it's fair and on par with regional standards and industry trends. Benchmarking will also assist in determining what your practice is worth for transitions like strategic mergers, acquisitions, or partnerships. Once our analysis is complete, we'll clearly outline recommendations for changes that will make your practice stronger.
To learn more about how bench marking can open your eyes to opportunities for increased profitability and growth for your dental practice, contact us at 818-884-2549 or request a free initial consultation now.
Bench marking services for dentists:
Assessment of office operations
Revenue enhancement and cost-control methods
Strategic business planning
Acquisition due diligence
Assistance with mergers
Payroll Services for Dentists
Are you feeling overwhelmed by the stresses of processing payroll yourself? Our Dental CPA Firm will come to your rescue with payroll processing, reporting, and tax filing services to meet the needs of your business. Our outsourced payroll solutions are scalable and work for small businesses at any stage. Whether you're hiring your first employee or already have a full staff, we'll make sure they're paid correctly and on time, every time.
Using our payroll services makes sense because you'll not only preserve time and reduce anxieties but will save money too. Processing your payroll with us lessens administrative costs and eliminates the risk of tax penalties for late payments or miscalculations on your tax filings. When we manage your payroll, you'll breathe easier knowing that an experienced professional is on top of it while you give attention to the daily operations of your business.
Call us at 818-884-2549 or request your free consultation online now to learn how we can take over all your payroll processing and payroll tax needs. Our rates are designed to be affordable for small businesses.
Outsourced payroll processing:
Weekly, bi-weekly, or monthly payroll processing
Direct deposits
Federal and state payroll tax filings
Customized payroll reports
Weekly or monthly accounting summaries
Preparation of W-2s and W-3s
Preparation of 1099s
Worker's compensation audits
Unemployment claims
Our Dental Accounting Clients
Our Dental CPA Firm provides dental accounting, tax services, and practice management consulting to dentists in all stages of their careers and practicing in all types of specialties. From new dentists and independent dental contractors to pediatric dentists, oral surgeons, and orthodontists with established practices, we'll efficiently manage your finances and limit tax liabilities to increase your income.
Call us at 818-884-2549 or request your consultation online now to learn more.
Dental CPA Services for Family and Pediatric Dentists
Family and pediatric dentists offer a high level of personal care and compassion to their clients. To maintain your level of support you need to focus on the needs of patients, not accounting and tax planning issues, and we can assist you.
Dental CPA Services for Oral Surgeons
Our CPA firm is highly experienced in all aspects of dental accounting and truly understand how an oral surgery practice operates. You can rely on us for everything from accounting services to practice management.
Dental CPA Services for Orthodontists
We believe you shouldn't have to choose between your patients and your practice so we offer a full range of outsourced accounting services and practice management techniques to save time for busy orthodontists.
Dental CPA Services for Independent Dental Contractors
Our dental CPA firm will lower tax obligations so you have more money in your pocket. We'll put together a comprehensive tax planning strategy using every deduction available to reduce your tax obligations and increase wealth.
Dental CPA Services for all Doctors and Medical Professionals
In addition to dentists, our firm provides accounting and tax services to a wide variety of medical professionals including psychologists, chiropractors, optometrists, clinics, and many others.
The Next Steps…
We provide TWO HOURS OF FREE IN-PERSON CONSULTATION so that we may be able to understand your business needs and goals, and then customize solutions based on your best interests.
Call us today at 818-884-2549 and speak with Fazel Mostashari, Dental CPA, to learn about how we can assist you in your dentistry business.