PLEASE SEE LINK TO SEE MAIN PAGE FOR SERVICES DESIGNED TO BUY / START A DENTAL PRACTICE: http://buyadentalpracticeincalifornia.com/
Owning and operating a private dental practice or business is not commonly taught at any university or college.
Dentists have to struggle to find success through many trials and errors, which, of course, cost money, energy, and time (sometimes many years). Only after this struggle are they able to operate a financially sound and profitable practice.
The truth is, many dentists might be great clinicians but end up completely lost running a business. On the other hand, some dentists might excel in the dentistry business with a modest work schedule, simply managing their business based on good, valid, and time-tested principles.
We have created this website to provide invaluable support to dentists in building a business. We will help you cut down on errors and, at the same time, maximize resources.
We also provide custom solutions for all seasons of dentistry business, for when you're ready to buy and start a dental business, when you're actively managing a business, and when even when you're planning your exit.
We can provide unique and custom answers to provide a solid foundation for your practice's success and the realization of personal financial goals.
We believe that the foundation of a lasting client relationship is our ability to listen to your needs and to create a custom solution uniquely tailored to your goals and circumstances. Our goal is to provide you with financial expertise, industry guidance, exceptional service, and trusted advice that you can use to reach your goals for your practice or business. We are here to help you realize the financial rewards you deserve.
We provide a TWO HOUR FREE IN-PERSON CONSULTATION, that we might best understand your needs and then tailor solutions to meet your specific goals.
We offer a FREE initial consultation for Dental Professionals.
Call us today at 818-884-2549 and speak with Fazel Mostashari, Dental CPA, to learn how we can assist you in your dentistry business.
Dental Practice Acquisition and Start-Up Services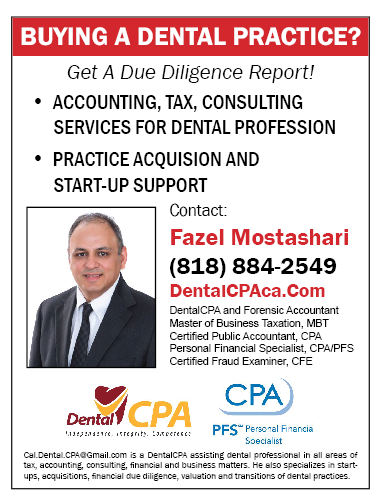 Dental Practice Valuations
Practice Acquisitions
Practice Mergers
Formation or Dissolution of Partnerships
Associate Buy-ins
Dental Practice Transitions
Transaction Advisory
Negotiation Assistance
Business Modeling
Cost/feasibility Study
Demographic Site Analysis
General Demographics
Socioeconomic Indicators
Dental Practice Competitive Analysis
Long-term Strategic Planning
Corporate Entity Structuring
Assistance Securing Financing
Tax Planning Strategies
Dental Office Accounting Set-up and Support
Dental Practice Bench Marking
Our Dental CPA firm provides dental professionals with a wide variety of custom services to enable dentists to excel in the dentistry business. It's vital that dental businesses are well established, so that personal and business success may be accomplished in an effective manner and that potential risks are recognized, minimized, and promptly dealt with.
Check out the services we provide to dentists and dental practices:
Reconcile your bank account, credit accounts and loans
Generate an income statement (P&L)
Generate a balance sheet
Clean up your general ledger
Prepare your personal income tax return
Prepare your business income tax return
Prepare any required sales and use tax returns
Prepare your Worker's Compensation audit reports
Prepare your Form 571-L Business Property Tax returns
Prepare Forms 1099 for any vendors or independent contractors
In addition to these services, we're always available to speak with you over the phone or communicate by email regarding any questions about your dental practice.

We provide dental practice valuations and due diligence as well as consulting during the purchase process. Our services are unique and unmatched in the field. We provide all the resources that are necessary for you to be well prepared for the winding road of purchasing and owning a dental practice. We offer our expertise to help your business succeed!

For each of our clients, we develop a custom Personal Financial Score Card. We discuss the items to ensure your customized path to personal financial success and also to limit your personal and business liability. We employ a fee-only financial adviser to serve our clients' best interests.

We never sell any products and we never get any commissions. We are paid only by our clients. There are many salespeople out there who sell (or push) bad products that financially harm dentists' in the long term. We always recommend staying away from bad products. Review the items that we discuss based on current and future goals. Remember, planning is a process that is continuous and requires knowledge, skills, ethics and patience.
A. Estate: Will & Living Trust, Titling of Assets, Irrevocable Trusts, Durables Power of Attorney, and Gifts & Charity Planning
B. Investing: Equity/Fixed Income Ratio, Diversification, Handling of Benefits, Tax Planning, and Cost Minimization
C. Risk: Business & Umbrella Coverage, Life Insurance, Property & Liability Insurance, Health Insurance, and Disability & Long Term Care Insurance
D. Spending: Saving Target, Meeting Target, Budgeting, Liquidity, and Debt Management
F. Goals: Retirement, College, Home, Work, and Enjoying Now

Our fees are competitive and fixed. In addition, we provide a 25% discount on hourly charges for all dental professionals. For all other services, as needed, there will be a fixed price set and communicated in advance.

We provide every dental professional a TWO HOUR FREE CONSULTATION to discuss any issue they may have or any of the services we've described above. Please see our main website at SoCalDentalCPA.com for more references and resources.
We would be happy to provide you with an appointment at your convenience to discuss how we can serve you.
As a financial professional, and also as a husband of a dentist, I have been involved in the dental industry since the start of my career as a CPA. Being a Dental CPA is a calling and I am proud of being part of my clients' careers.
I have assisted many dental professionals at various stages in their careers, starting with planning the financing of dental school, to being a new associate dentist, to buying a practice, then expanding the practice, repaying debts, building wealth, and finally enjoying retirement.
Our Los Angeles Dental CPA is a full-service financial firm that provides practice optimization, personal assistance, and tax and financial guidance for dental professionals' needs. Our in-depth knowledge about the dental industry, combined with business expertise, helps our clients' businesses to thrive.
Our focus on dental practices provides an unmatched depth of knowledge about the business needs of dental professionals. Our capability extends well beyond tax regulation and accounting compliance to profit improvement, wealth building, and exit planning.
Fazel Mostashari MBT, CPA/PFS, CFP, CDFA
Master of Business Taxation, MBT
Certified Public Accountant, CPA
Personal Financial Specialist, CPA/PFS
Certified Internal Auditor, CIA
Certified Divorce Financial Analyst, CDFA
Registered Investment Adviser
Certified Fraud Examiner, CFE
Enrolled Agent to Practice Before the IRS, EA
CERTIFIED FINANCIAL PLANNER™ (CFP®)
California Real Estate Broker
Chartered Financial Analyst, CFA Level II Candidate
The Next Steps…

We provide TWO HOURS OF FREE IN-PERSON CONSULTATION so that we may be able to understand your business needs and goals, and then customize solutions based on your best interests.
Call us today at 818-884-2549 and speak with Fazel Mostashari, Dental CPA, to learn about how we can assist you in your dentistry business.
Buying or selling a dental practice might be the single biggest decision of your professional career. This task requires a mix of financial and non-financial information such as local customs.
PLEASE SEE LINK TO OUR MAIN PAGE ARTICLE : http://socaldentalcpa.com/dentalcpa/
As a husband of a dentist and a financial professional, I have been constantly asking buyers, sellers, brokers, banks and other lenders,CPAs and any other person I find, how (they) to value a practice and related questions. I have also studied business valuation technics and taken formal education and exams to sharpen my skills and technics such as the ABV(Accredited in Business Valuation Exam) review course offered by AICPA and I was able to find my own methods and ways.
First, I want to tell you how I started my journey to understand Dental Office Valuation. I was asking many professionals in the dental industry. These are some of the answers I got.
You disregard all cash collected and offer 70% of all other collection.
Never more than 70% of last year's collections.
Between 60-80% of last year's collection.
Between 2 and 3 times of net income.
Between 80% and 120 % of last year's collections for an HMO Office.
A three-factor formula based on 1/3 collection, 1/3 new patients and 1/3 quality of equipment.
60% of last year's collections for a bad area, 70% for an average area, 80% for good area, 90% for a great area.
Income-based valuation methods.
Capitalized earnings method.
Discounted cash flows method.
Market-based valuation methods.
Excess Earning Method.
Well, let me stop at this point with all of these so-called methodologies which might not make sense to you. In my opinion, after reviewing over 500 offices, these are all incomplete descriptions of a very complex task.None of these completely and accurately describes this task. Before I get to the actual description of dental office valuations, I need to write a bit about what I usually observe while a practice sale/purchase is going through (Or Not).
Sellers are much advantaged when it comes to selling their practices.
On average they are more experienced in the dental industry and dental business.
They hire a Broker to protect their interests and sell their offices. Usually, a Broker's commission is between 8% to 12 % of selling price.
They have been the business and have the financial means to retain Attorney's and CPAs and other consultants to help them.
They know their business very well.
Buyers on their other side are a bit disadvantaged.
They have no brokers to represent them.
New dentists have not the experience and financial means to add professionals to their team.
They have a limited time to go through the process.
All stakeholders benefit when a practice gets sold. The seller gets his money. The broker gets his commission. Consultants get paid.Bank makes a loan. The only person who might lose a lot is the buyer. He/she is stuck with a bad practice and big loan.
Well, one more thing I can add at this point is, I helped my clients walk away from 100s of bad deals. I assist my clients to search for months/years until they find a suitable practice. The more you know going into the sale/purchase of your practice, the better off you'll be both financially and personally.
All of these sound confusing and is filled with some false beliefs and differences of opinion. There is no single standard methodology.Depending on the people's profession, you would get a different answer in this regard. Sellers and Brokers would like to assess a higher value to the practice.Buyers and lenders might be more inclined to assess more risk and value to a practice and be cautious. People trained in valuation technics might use a more algebraic and systemic approach to valuation. On the other side people who know the industry might go with a much simpler way to value a practice. Unlike residential real estate, there is no multiple listing services (MLS) or dental database of dental practices that have been sold.
Now let's go to the process and define the task. My concentration is on the buyer's side of the deal since the majority of the people I represent are buyers.
OUR TASK IS TO FIND A SUITABLE OFFICE FOR BUYER AND DETERMINE BUYER'S INVESTMENT VALUE:
Investment value is the value of a property to a particular investor. In the U.S. and U.K., it is equal to the market value for the investor who has the capacity to put the property to good use—its highest-and-best-use, its most valuable use. For other investors with limited capacity or vision, investment value is lower because they cannot put the property to use in a way that is maximally productive. THIS IS DIFFERENT FROM FAIR MARKET VALUE.
A practice might be worth $300,000 as its fair market value,but Buyer's Investment Value might be higher or lower, depending on his/her needs and plans. That's why our concentration on valuation as Buyers is not what sellers, brokers and other consultants believe the practice should be sold for. A buyer might offer a way higher price or lower price for a practice. In simple terms, a practice investment value might vary between different buyers depending on their prerequisites.
No two buyer and no two dental practices are identical. Each dental practice and Buyer are unique. Our challenge is to find as many details about a practice and match them to a Buyer needs until we go forward and make an offer. I also put some emphasis on finding the right seller. If your seller is a bad seller and not helpful, the process will be a nightmare.
Our due diligence starts with an evaluation of the information that the sellers and brokers are willing to provide before an offer is made. We take a look at the location, revenues, insurance revenues and types, expenses,procedures that are provided, rent, selling doctor's profile and all and another items and public information that can be evaluated. This process already eliminates most offices before even a further step is made. We try to find out if the production and expenses can be duplicated, will decrease or if our Buyer is able to expand and add additional services. In some of the practices, there might not be much dentistry left to be done on the current patients. Some might not have any room to grow due to seller already providing all specialty services, especially if the Buyer does not personally provide these dental services.
Additionally, a good office lease is critical. Before any offer is made, it's evaluated if annual rent expenses would even allow building a profitable office. Rent Expenses should be preferably about 5-7% of annual revenues and not exceed 10-12%. Later after the offer is accepted and Buyer goes through its due diligence, an attorney should defiantly be retained to take a much thorough review of all lease terms.
There are many other factors that must also be considered,such as location, equipment, appearance, staff, longevity, reputation and reviews, patient mix, procedures performed, growth trend, parking, visibility,and any and all available information. The main question is if the production and profitability will be continuing for the buyer.
Please see below a short list of information that needs to be reviewed to value an office accurately.
Recent profit and loss statements, balance sheets, and income tax returns (at least three years).
Percentage of collections used to cover overhead.
Equipment valuation; typically, this should be performed by an independent dealer. The present value of all usable clinical supplies and hand instruments should be assessed, as well. In addition, does the practice owner or lease the equipment?
A detailed physical description of the office, including, byway of example, the number of operatories. Does the selling dentist own the underlying real estate?
A production and collections report and a breakdown by each dentist and hygienist.
An accounts receivable and aging report. In addition, what percentage of the accounts receivable is actually collected? Further, compare the aging report to the production/collection reports to verify that these reports are consistent and accurate.
A description of any contractual relationships of the patients, employers or, insurance companies including HMOs, PPOs, DMOs, and capitation plans.
A breakdown of practice expenses for insurance, retirement benefits, employee benefits, payroll taxes, medical reimbursement, telephone expenses, and continuing education. How much does it cost to run the practice?
A total number of active patients and the number of new patients per month. This number will help the dentist and his/her advisers estimate an expected amount of cash flow for the practice. If the target practice is a specialty practice, a list of referring dentists would be extremely helpful. Where do new patients come from?
How much revenue is based on insurance reimbursements?
Next Steps…
We offer a FREE initial consultation for Dental Professionals.
Call 1 (818) 884-2549 today for a free, confidential consultation and ask for Fazel Mostashari.